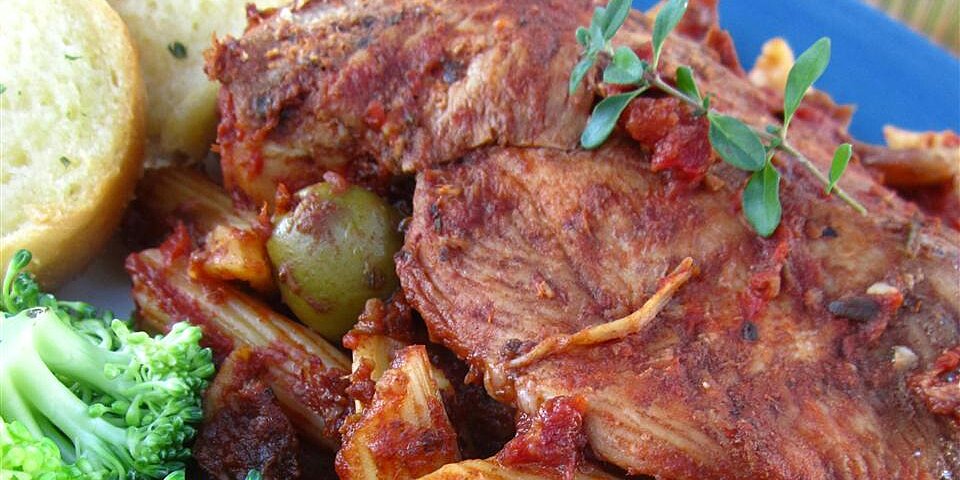 So easy and so good. I use frozen chicken breasts and cook on high for 4 hours in the slow cooker. The sauce is not thick, it is a bit runny, but very tasty. Add tomato paste if you want it thicker. Serve on top of pasta and sprinkle with Parmesan cheese. I use one can of crushed tomatoes and one can of diced tomatoes.
prep: 15 mins cook: 4 hrs total: 4 hrs 15 mins Servings: 6 Yield: 6 servings
Ingredients
2 tablespoons olive oil

4 skinless, boneless chicken breast halves, or more to taste

salt and ground black pepper to taste

1 onion, thinly sliced

4 cloves garlic

1 teaspoon dried oregano

1 teaspoon dried basil

1 teaspoon dried rosemary

½ teaspoon dried thyme

½ cup balsamic vinegar

2 (14.5 ounce) cans crushed tomatoes
Directions
Step 1

Drizzle olive oil into the slow cooker. Place chicken breasts on top of oil and season each breast with salt and pepper. Top chicken breasts with onion slices, garlic, oregano, basil, rosemary, and thyme. Drizzle balsamic vinegar over seasoned breasts and pour tomatoes on top.

Step 2

Cook in the slow cooker set to High until chicken is no longer pink in the center and the juices run clear, about 4 hours.
Nutrition Facts
Per Serving: 200 calories; protein 18.6g; carbohydrates 17.6g; fat 6.8g; cholesterol 43.1mg; sodium 223.5mg.