Healthy Caesar Dressing is a lighter twist on a classic made creamy with Greek yogurt and flavorful with fresh Parmesan cheese, lemon and garlic. So simple and so flavorful!
Other creamy healthy salad dressings we love recreating are healthy ranch dressing and healthy poppy seed dressing!
Caesar salad dressing is traditionally thick, creamy, tangy, and garlicky with a delicious umami flavor from the anchovies and Parmesan cheese. And who are we to mess with tradition?!
This healthy Caesar salad dressing recipe doesn't skimp on any of the rich flavors we love about the classic dressing! Thanks to the easy swap from mayo or egg yolks to plain yogurt, it comes out healthier, lighter, and lower in fat and cholesterol.
I love a good homemade dressing made from scratch. Nothing compares to the fresh flavors you just can't get from a bottle.
I also love using Greek yogurt to make dressings in general. Once you start you'll never go back!
This deliciously tangy dressing is of course the perfect match for a healthy Caesar salad with some sourdough croutons!
But it works for chicken cobb salad, spinach salad recipe, and lettuce salad too. My kids also love it as a healthy veggie dip while they're waiting for dinner!
What Makes This Caesar Dressing Healthy?
Well, for starters it's made from scratch! This means we're avoiding processed ingredients, added sugars, high sodium, and unnecessary oils that come in store-bought Caesar dressing.
The healthy high protein yogurt is lighter than mayo, eggs, or even sour cream, and yet still just as creamy. The bonus of calcium, probiotics and lower calories is something to celebrate!
Ingredients You Will Need
What's great about making homemade dressings is you can play around with the amounts. If you don't like yours super garlicky or super salty, adjust as needed!
Plain Greek yogurt or regular yogurt. At least 2%.
Grated Parmesan cheese
Lemon juice
Anchovy paste or minced anchovies
Garlic cloves, grated
Salt & ground black pepper
Do I Have To Use Anchovies or Anchovy Paste?
You don't! Although it's definitely the ingredient that stands out in any authentic recipe, a simple swap is easy to do.
To get it as close to the real deal as possible you want to replace it with a salty, briny ingredient. Worcestershire sauce, olives, or capers can replace the anchovies if needed.
How to Make Greek Yogurt Caesar Dressing
This will make enough for one large healthy Caesar salad. Double or triple the amount if needed.
Add yogurt, grated Parmesan cheese, squeezed lemon juice, anchovy paste or minced anchovy fillets, grated garlic, salt and pepper to a bowl.
Alternatively, can also add all ingredients to a jar and shake.
Healthy Caesar dressing made in a blender: Add all your ingredients to a blender or food processor and blend away! Adding a bit of milk will result in a runnier, thinner dressing, great for whipping up a pourable version.
Mix everything until well combined. If you find salad dressing a bit too thick for your liking, thin it out with one tablespoon of milk or water at time.
Transfer the dressing to a glass jar or container and allow it to chill for 30 minutes in the fridge.
I'm not a fan of warm creamy dressings, plus the flavors have a chance to infuse with one another.
Tips for Best Results
Use freshly grated Parmesan. This means grating it yourself from a block and not shaking it out of a bottle. It's better tasting and doesn't come with a slew of preservatives.
Lemon juice from a lemon, not a bottle. The same rule applies, it's much better tasting!
Consistency and texture. The higher the fat content of your yogurt, the richer and thicker the consistency will be.
Adjust the flavors by increasing or decreasing the amount of garlic, anchovy paste, or parmesan you use.
How Can I Use This Dressing?
This healthy Caesar dressing has so many uses!
Use it on this lemon kale salad with garlic and Parmesan!
As a marinade for grilled chicken breast.
Use it as a dip for veggies, crackers, and flatbread.
Dress up your chicken Caesar salad or plain healthy Caesar salad, or make yourself a wrap.
Storage Tips
Keep stored in a jar with a tight fitting lid so that it lasts the full 7 days in the fridge. Always shake or stir it before serving because the dressing may have settled.
More Healthy Salad Dressings
Asian salad dressing
Avocado cilantro dressing
Raspberry vinaigrette
Carrot ginger salad dressing
Healthy honey mustard dressing
I hope you enjoy this healthy caesar dressing as much as we do! You might also love this list of all my favorite healthy homemade salad dressings!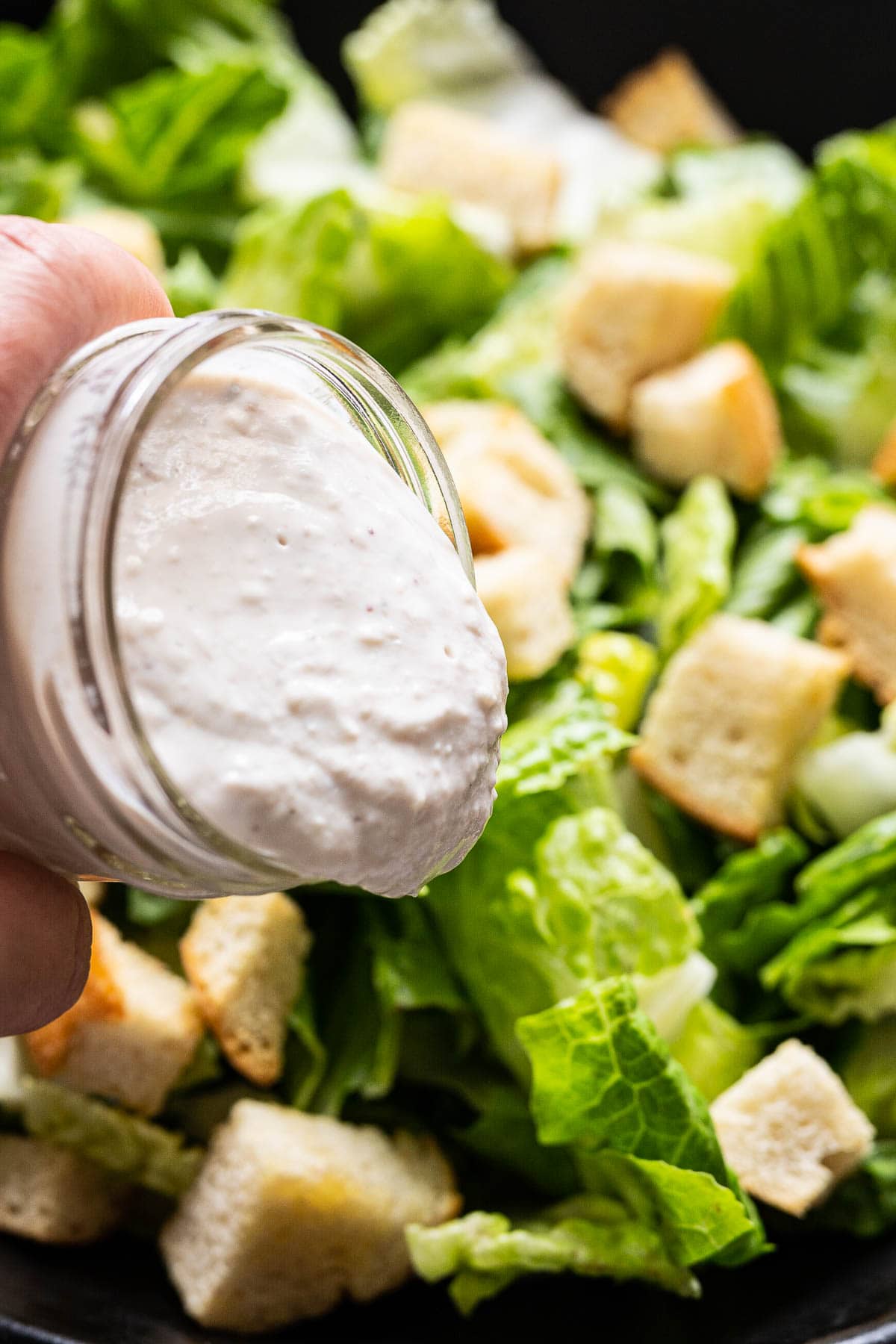 Share this recipe:
Healthy Caesar Dressing
Healthy Caesar Dressing is a lighter twist on a classic made creamy with Greek yogurt and flavorful with fresh Parmesan cheese, lemon and garlic. Course: Salad DressingCuisine: American Prep Time: 10 minutesTotal Time: 10 minutes Servings: 4 servings Calories: 73kcal Author: Olena Osipov COOKING MODEPrevent your screen from going dark
Equipment
▢

Measuring tools

▢

Measuring cups

▢

Glass bowls
Ingredients
▢

1

cup

Greek yogurt or regular yogurt

2%+ fat

▢

1/3

cup

Parmesan cheese

grated

▢

2

tbsp

lemon juice

▢

2

tsp

anchovy paste or minced anchovies

▢

1-2

garlic cloves

grated

▢

1/4

tsp

salt

▢

1/4

tsp

Ground black pepper
Instructions
In a medium bowl, add yogurt, Parmesan cheese, lemon juice, anchovy paste, garlic, salt and pepper. Whisk well with a fork. Alternatively, you could blend the dressing for smooth consistency. Thin out by adding a tsp of milk, if too thick.

Transfer to a glass jar or container. Dressing tastes best if chilled for 30 minutes. Makes 1 cup and enough for large healthy Caesar salad.
Store: Refrigerate in a jar for up to 7 days.
Notes
More creamy yogurt: Higher fat content yogurt 2% and up will yield creamier dressing. You can use 0% yogurt, if you wish.
Anchovy paste substitute: Try to add more Parmesan, garlic and salt to taste.
Nutrition
Serving: 4tbsp | Calories: 73kcal | Carbohydrates: 3g | Protein: 9g | Fat: 3g | Saturated Fat: 1g | Trans Fat: 1g | Cholesterol: 11mg | Sodium: 407mg | Fiber: 1g | Sugar: 2g